The signals below are so you can follow trades that make NEW 52 week highs for the 52 week high system.
A new 52 week high for this system is classified when the stock price is at its highest close (or equal to the highest close) counting back 52 weeks.
If a stock continues to make new highs, for example in the 53rd and 54th week, they are now regarded as ROLLING highs, not NEW 52 week highs.To clarify again, the buy signal for THIS system discussed is a NEW 52nd week or 1 year closing high, not a rolling high as is often given elsewhere.
The signals provided are WITHOUT A BULL FILTER.
Other parameters (along with the 52 week closing high) to be met for the signal to be valid are: The 11 EMA weekly is to be above a 12 EMA weekly (to define the trend has been in place a few months, not a recent price spike which is likely to fail)
The exit used FOR THIS METHOD is the 7/12 EMA crossover. Therefore, some stocks will be re signalling a new high buy signal if they have been recently exited by using the 7/12 exit within the last 12 months. This is important and you need to understand this.
Of course the 7 EMA needs to be above the 12 EMA to make the 52 week high valid, (otherwise we would be selling straight away) nearly always this is the case, but rarely if a stock spikes it is not.
So to repeat, the rules are: USING WEEKLY PARAMETERS!
Entry:
Share price to make a 52 closing (or equal to) week high (when selecting a buy, favour the cheapest stock)
The 11 ema to be above the 12 ema
The 7 ema to be above the 12ema
Exit:
if the 7 ema crosses below the 12 ema
The above system contains no position sizing, bull or bear filters or fundamental stock selection, these are discussed and taught to private clients or at my courses.
These are the 52 week closing highs (without a bull filter) for the week ending 17/5/19

Remember these scans are not using a Bull filter. The signals are for the simple 52 week CLOSING high entry and 7/12 EMA crossover exit system only.
STOCKS IN THE ASX 200
RMD


STOCKS IN THE ASX 200-300
NWL

STOCKS IN THE 300 TO 500


CNI SPO WLL

E Book signals:
This week I am again listing the eBook buy signals. The reason they can be different to the signals above is to do with the Bull filter. The following stocks may have made a 52 week closing high a few weeks ago but were not valid buys in the eBook system because the Bull filter eliminated them, so sometimes the signals are delayed compared to the simple 52 week high system not using the Bull filter. Sometimes the signals with or without the bull filter are the same, it depends on what the market has been doing. The signals below are valid now for the eBook system because the filter is in buy mode.
The eBook signals for the ASX 300 are
RMD NWL
3 weeks ago DLX triggered a buy, I have left this explanation here for a few weeks for you to read if you missed it:

Comments on DLX. This stock is under a takeover offer the reason for the price spike. It seems likely it will succeed as the Dulux board has recommended to shareholders to accept. I see three main possibilities, the deal goes ahead as per the offer, the offer is increased with a "sweetener" to clinch the deal, the deal falls through. The system if it has the money will buy the stock. However I normally stand aside in these situations. This is not advice, you need to decide what suits you the best in this situation.
As you can see from the chart of the eBook system below, all trades had been stopped by Dec 2018, if you had of started the system in Dec 17. If you started the system earlier or later than this start date, you may still have a few trades open in your portfolio. (because you would be holding different stocks than in the portfolio chart below) This is a significant time in the performance of the system as it has now signalled to buy again after selling out from the correction (NOTE THE SPIKE IN CASH HELD IN DARK GREEN SHOWING ALL STOCKS GONE TO CASH)
The eBook system is now "all in" the market with all cash raised from the correction in December 18, now employed. The list below the equity graph shows all trades bought and sold since the correction low in Dec 18. The first trade bought was RMD on the 18/1/19 which was a losing trade.
The eBook system had a good week rising 3.8%. Listed below are the current holdings.
This chart below shows two volume indicators, the On Balance Volume and the Chaiken Money Flow (displayed in green) using a 13 week format.
MARKET COMMENTS: As of 17/5/19: (see charts below)
The market rallies from the short term sell off with good volume backing the move. The eBook system and Peters Portfolio put on nearly 4% each. A good week to be a trend trader. I will save any more comments for this Sunday at the seminar in Sydney. I am looking forward to meeting everyone and discussing this dynamic market we have at the moment.
MARKET COMMENTS: As of 10/5/19: (see charts below)
The markets threw us a curve ball this week with Trumps tweets. However the double top has many nervous and it was an excuse to sell. The faster moving 13 period CMF warned a few weeks ago volume was receding, but the OBV looks supportive. The bull filter is still well in play. The eBook system churns a few stocks this week as it follows its process, sell weak stocks buy stronger ones. Simple is it not?
MARKET COMMENTS: As of 3/5/19: (see charts below)
Big volume this week, it was a full weeks trading compared to last week and also the end of the month. The eBook rose again this week despite the index falling a little. I notice in the US on Friday night the Russel 2000 broke up out of consolidation. To me this indicates more rises to come particularly in the mid and small cap shares. Interesting times.
MARKET COMMENTS: As of 26/4/19: (see charts below)
Price crashes past the old highs in August 18, on the way to the all time high of 6873 set way back in 2007. When markets are running like this they confound most market analysts, the reason why the great trend trader Ed Seykota quipped many years ago "The trend is your friend until it bends at the end". I assure you this trend will bend sooner or later but until then we let the market decide when to sell, and the plan is to hold our positions and be grateful.
MARKET COMMENTS: As of 18/4/19: (see charts below)
The Market rose again this week but volume is dropping and I notice some volatility in the smaller stocks and mid caps. After bagging the Gorilla stocks last week, this week they did well!......holding up the index. Traders and investors must be getting nervous as the index approaches the old highs in August 18. Many "expect" a sell off, it would seem probable, a pull back of some kind, however this market is strong and the US indicies continue to rise. The eBook system pulled back a little this week as its stocks has had a great run, so it took a breather. Volume is trending down signifying buyers could be drying up, for a while anyway, but really who knows with this market. Stay calm and stick to YOUR method.
MARKET COMMENTS: As of 12/4/19: (see charts below)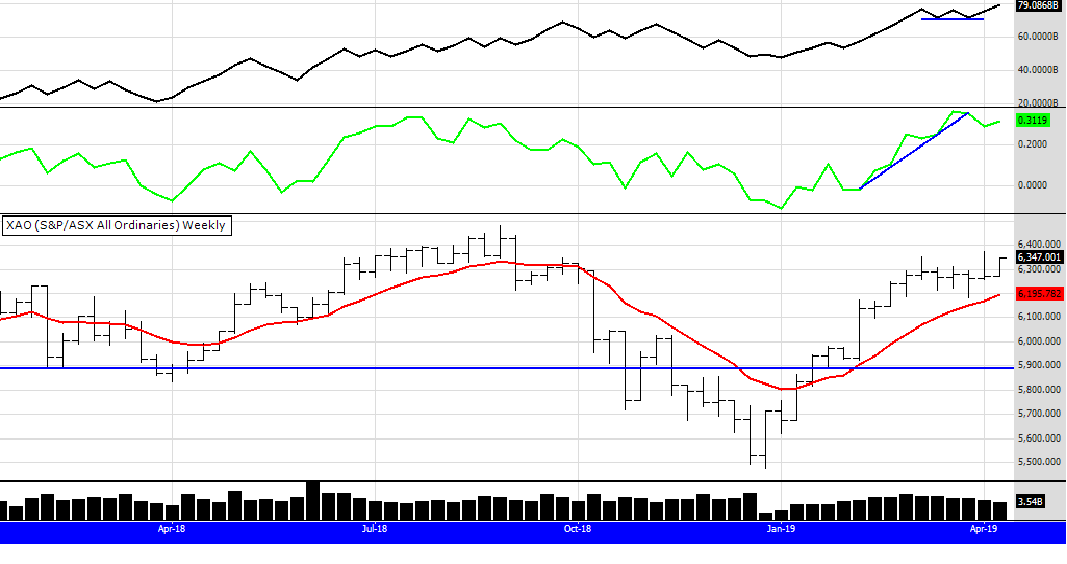 The market rises again this week. The eBook system had a great week rising nearly 5%. That's a lot and it surprises even me. Peters Portfolio in comparison notched up a measly 2.5% but it does not include this coming Mondays trading. As you can see the XAO didnt rise that much so why the big gains? Because big gains are not in Gorilla stocks like banks, the gains are in low priced stocks with growth prospects, exactly what the eBook system targets by buying 52 week highs. Peters Portfolio does a similar thing but is a little more conservative. Look at the chart below, the XNJ is the industrials sector. Along with this sector and others like Health and Technology, these sectors are driving the market, not banks and not many of the Gorilla mum and dad stocks of old.
MARKET COMMENTS: As of 5/4/19: (see charts below)
This weeks price action is arguably more negative than last weeks, however it was on small volume indicating sellers are not dominating. Volumes indicators are conflicting, the faster moving 13 period CMF is looking negative but the slower moving OBV is holding up. I was reminding myself this morning uptrends can last a lot longer than thought and surprise many, The US market continues to rise and we will follow despite the "expected" fall that may come here in the Aussie market. As hard as it is psychologically the best thing to do is stick to your system/method. Remember too the XAO is dominated by the financial sector, I encourage you to look at sectors like resources, health and particularly technology, where you will see more strength than what is displayed above. However investors mindset is often influenced by the overall market, the reason I display this chart with comments.
MARKET COMMENTS: As of 29/3/19: (see charts below)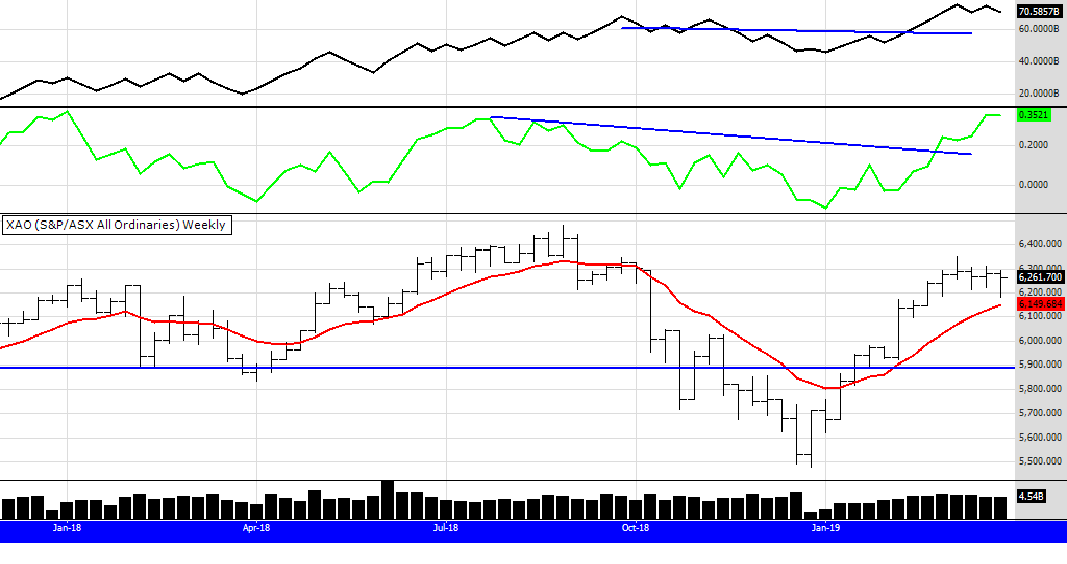 It was the most bearish week we have had since the recovery. The market fell below the lows of the last 3 bars, but it closed up quite strongly towards the end of the week. There is no warning sign yet from the volume indicators, one weeks price action does not make a downturn. At the moment (and that is all we have the present moment) the market is taking a breath. It's good to see because the more this market rallied up hard the greater the chance of a sell off to compensate. Trend traders hold your nerve.
MARKET COMMENTS: As of 22/3/19: (see charts below)
Another good week for the systems. The eBook rose around 1% and so did Peters Portfolio which will be posted on Mondays close. It's looking like a classic V shaped recovery on the chart above. I spoke to a few trading clients this week that have been doing very well the last few years, why? They stuck to their system. My mantra remains the same, the two reasons traders fail is they don't have a method, if they do have one they don't stick to it. The technical side of trading is easy, the mental side is hard, thats why you need a method that suits YOU, your objectives and personality. Developing that system for you is my job. Good luck next week.
MARKET COMMENTS: As of 15/3/19: (see charts below)
Everyone is waiting for a pullback but we may not get one until this market reaches the highs set in August 2018. Then we still may not get a pullback.........its why I always say prediction is so difficult. Remember always that this index is often governed by the dominant stocks of finance and resources, mid cap stocks can power along without really affecting the look of the XAO. The index fell a little this week but the eBook stocks continued to rise, as did Peters Potfolio which will be published after Mondays close. This market continues to look strong, volume indicators are not weakening and there were a good number of new 52 week closing highs this week. Last week there were only a few, suggesting things were slowing but this week shows strength again with more new signals. TLS being a notable signal.
MARKET COMMENTS: As of 8/3/19: (see charts below)
Is the market finally taking a pause? Not a lot of change this week. The OBV continues up but the CMF points a little down, price is flat. Next week will be interesting. Both the eBook system and Peters Portfolio had a good week rising 1.5%.

MARKET COMMENTS: As of 1/3/19: (see charts below)
What a difference a week can make. I often say PRICE is the ultimate indicator. Even though the volumes were looking a little weak last week, price has continued up, with now a lot of volume supporting the upmove. In fact price now is chasing volume, both the OBV and the CMF suggesting the price will go higher as they outpace the price. We know in the US on Friday the market had a rally so we would "expect" (nothing is certain) the XAO to rise as well on Monday. The US 500 is hitting resistance. It needs to break through 3 old highs to continue on and looks over bought on the daily charts. (see chart of US 500 below) The weekly chart looks stronger. (not displayed)
I have made a change to when I publish Peters Portfolio. It will now be published Monday nights to show the stocks bought and sold on that day as the majority of my buying and selling is done on a Monday. Thank you to those that logged in on Thursday night to the webinar. I may have missed some of your questions whilst I focused on the presentation. If so feel free to email me if you have any questions about the content discussed.
MARKET COMMENTS: As of 22/2/19: (see charts below)
As most people following technical analysis will say, the market looks over bought. Many signals are flashing warning, perhaps not so much for a fall but a slow down at least. The confusing thing is that I have agressive momentum systems that are signalling to buy the market. The chart above shows a negative divergence on the CMF between price and volume, this does not mean to say the index will fall or crash, but it is an indication (and that's all indicators are, indications) that perhaps the bulls are becoming less commited after the recent big rally. It makes sense as markets do not rise in a straight line forever, but this market is strong and could go on to meet the highs made back in August 18 sooner than later. So what to do? As usual it comes down to following the method you have selected to suit your mindset and objectives. (if you don't have a method get one) The eBook system has had a stellar run since entering the market again 6 weeks ago, putting on almost 9% from its cash out lows. Going into March portfolios will now be supported with coming dividend payments. Will the index of the XAO looking overbought slow the strong trending stocks? I am not sure it will but time will tell.
MARKET COMMENTS: As of 15/2/19: (see charts below)
The index takes a breath. But its a misleading chart because its dominated by the financials which fell this week. Many stocks continue to rocket as is indicated by the rally in the eBook system this week as well as the good performance of Peters Portfolio, the small and mid cap system . For example look at the chart below of the materials sector, a sector without the financials. A much stronger looking chart and the volume indicators confirming the upmove. However we dont need to do sector analysis too much, the 52 week highs will tell us where the strength is. That's why you havn't seen a 52 week high in many banks because they lack strength. Trend trading is about buying strength and selling weakness. Simple.
MARKET COMMENTS: As of 8/2/19: (see charts below)
Well. It goes to show you should follow the trend. A big week and those that had the courage to buy a few weeks ago when the signals came are being rewarded. The OBV has kicked up but the CMF lags a little, a big volume bar though supports the bullish move up. I notice many comapnies are reporting strong results indicating the long term bull market has perhaps legs yet. Its been quite a recovery from the lows only 7 weeks ago indicating how oversold the market was. For many traders they will be feeling confused and frustrated as the fear of loss is replaced with the fear of missing out. If thats one of you I suggest you work on getting a good method...........and sticking to it.
MARKET COMMENTS: As of 1/2/19: (see charts below)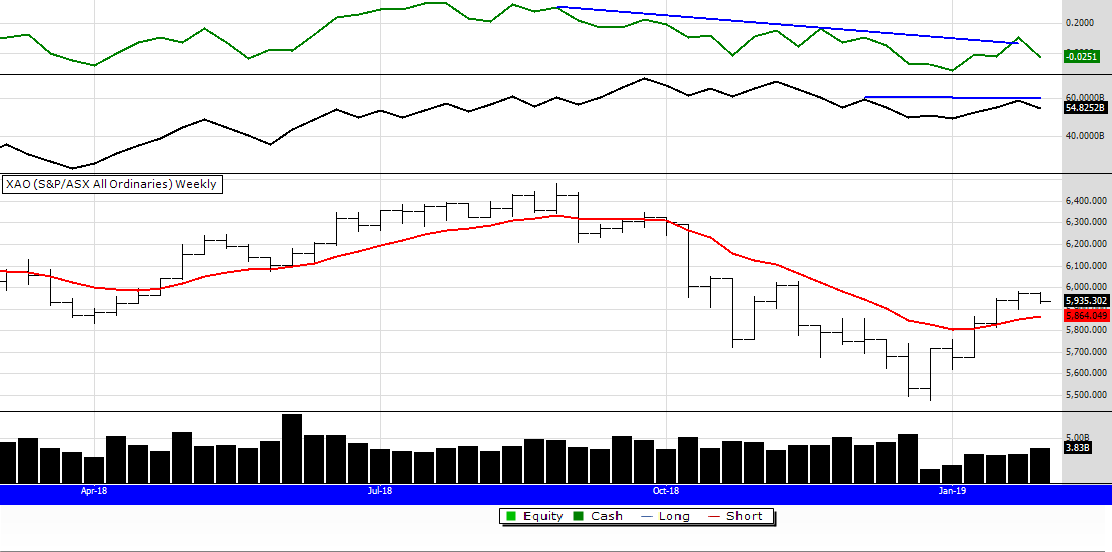 This week volume is up but price slightly down. To me (and each persons view is subjective) the chart above shows uncertainty and reserve. The US SP500 has now reached the 61.8 Fibonacci level of around 2700 points surpassing the 50% point. I have never been a fan of Fibonacci however many traders put great store in it perhaps making it a self fulfilling prophecy. The markets have had a strong rally off its lows, a pause, consolidation or drop back is due. However if this does happen, and it might not, this may not stop the strong trending stocks from still out performing, which of course is the whole idea of trend trading as we hopefully position ourselves in only those stocks that are rising.....and have a good probability of continuing to do so.
MARKET COMMENTS: As of 25/1/19: (see charts below)
The recovery on the Aussie market continues. The US market did have a pause this week(but I write this with one more trading day to go in the U.S. for this week). Volume on the XAO has picked up, as can be seen by the volume bar plus the CMF has now broken its down trend line to the upside. However the OBV is not confirming the rally, still flatlining despite the price rising. Its not a big concern but an indication that buyesr are still cautious not convinced this is a recovery but a bear market rally. The eBook system will be all in next week, my own portfolio is flatlining as I wait for my systems mid cap bull filter to kick in, as it has not done so. The recovery is more in the top 300 so far. I have taken the time out to do some more testing and developing on monthly systems, and prepare for the Feb lecture at the ATAA in Sydney.
MARKET COMMENTS: As of 18/1/19: (see charts below)
The XAO has another rally this week on lowish volume. Investors are cautiously buying back in although some stocks are rocketing as can be seen by looking at the charts of the 52 week high signals above. Looking at the US market (chart below of the SP500) one would think a pause would happen soon now that it has pulled back up over 50% from the low to the high. The problem is that's a subjective statement and no one knows what will happen.....however we do have probability to work with which is the best tool. The challenge with trading is following your system, experienced traders know that. So is this a recovery in a bull market or a bear market rally? I think it's the former and time will tell.
MARKET COMMENTS: As of 11/1/19: (see charts below)
Ok. The rally I suggested last week has come and the eBook filter is in buy mode. I posted some extra comments about the eBook above this XAO chart, I suggest you read it if you have not done so. Volume is low this week. I am not sure if this is because some investors/traders are still in holiday mode or if there is another reason. OBV has broken a short term trendline to the upside but I wouldnt get too excited about that. The CMF looks postive but yet to break its downtrend line. Despite what we read into the chart above (and we will all see something different) the fact is the eBook system is saying buy. If you are following this method its challenging emotionally to buy after the pullback of the last few months. However if you have chosen to trade a mechanical system, its part of the commitment.
My system in Peters Portfolio trades a slower Bull filter. It has not yet given a signal to buy. Now...this is not because my system is "better" than the eBook. It's because I have been trading that filter for many years and I do not want to change it. Regular readers will know my philosophy of pick a system and stick to it!
MARKET COMMENTS: As of 4/1/19: (see charts below)
Post holiday trading returns to normal next week, the past 2 weeks have been reduced volume so price action could be regarded as less telling. A good week could put the XAO back in buy mode if it can cross above the eBook Bull filter moving average marked in red. The filter has kept many from buying for 14 weeks now, as the market goes through its correction. I seem to be the only one not calling this a bear market. Until long term trendlines are broken to the downside I still see this as a correction. Looking at a daily chart of the US market (posted below) I notice it has made a short term technical breakout to the upside, next week will be interesting, a big rally would not surprise me.
MARKET COMMENTS: As of 28/12/18: (see charts below)
The XAO fell to the 5500 area I had been talking about for weeks, in fact it hit 5478 as the low. Very low volumes because of the holiday break (only 3 days trading) but price action is significant. US markets bounced off long term monthly trend lines I talked about in my last newsletter. Click on the link below if you missed it. This may be the start of consolidation before the next rise, or it could be a pause in the falling. Its wait and see and let the market tell us what the future holds.
http://www.easysharetradingsystems.com.au/products-and-services/archive/listid-1/mailid-142-a-line-in-the-sand
MARKET COMMENTS: As of 21/12/18: (see charts below)
The XAO has reached the 5500 level I have been talking about for some time, US markets are on long term support lines too like our local market is. This market looks oversold to me, volumes still look supportive long term as shown by the trendline of the OBV. It has come back to the breakout area it had a few years ago. The breakout that started the euphoric stage that is now correcting. Try and remember (always) that markets are driven by emotion more than fundamentals or technicals. Attempt to detach from your pain and look at whats happening in a removed state of mind. You will see it all so much more clearly.
MARKET COMMENTS: As of 14/12/18: (see charts below)
The above chart was posted after 2 days trading of the week, so I posted in on the 19/12/18 before Wednesdays trading. However not a lot has changed from last week.
The market looks to be seeking the 5500 level particularly with US markets continuing to fall. Last weeks CMF indicator shown in the chart below
has now broken its short term trend line to the downside. Longer term the market looks well, we just have to sit out this correction.
MARKET COMMENTS: As of 7/12/18: (see charts below)
Not a lot has changed this week. Volume indicators have kicked up a little, this "feels" and looks like a bottoming process,
however with the continual falling of the US markets our market wont go anywhere. In fact we may visit 5500 sooner than later.
It might take this to exhaust the sellers. The chart below shows again the US500, its a daily chart so we cant read too much
into it. Fridays reversal of price now makes the chart look like it wants to fall more, despite volume indicators suggesting
support. Its wait and see.
MARKET COMMENTS: As of 30/11/18: (see charts below)
Volume picks up and the price falls a little. OBV verifies what I said last week, buyers are on the sidelines waiting. The 13
week CMF indicator looks stronger, its a slower moving indicator, however it does show good support in the longer term.
It would not surprise me to see the index reach down for the 5500 region, it may only be for a day or two but perhaps we
need to do that to exhaust the sellers. This is a correction, not a bear market. Once sellers are exhausted the
balance of power (emotion) will change to buying and the market will rally. The US market (see chart below) looks stronger
but thats been the trend for years. The Australian markets big 3 sectors, banking, resources and property all underperformed
this week.
MARKET COMMENTS: As of 23/11/18: (see charts below)
I have posted 3 charts this week, lets look at the one above first. A concern is the breakdown of the OBV trendline, even
though the 13 period CMF looks much more supportive. Its not a good sign that the OBV has broken down, it often indicates
more falls. Lets look at the 2nd chart.
Below you can see a longer term chart, I have drawn the longer term trend lines on it. There is long term support around
5500, this market could fall to that level before regaining the uptrend. We are not in a bear market, not yet, it would need
to fall below the trendline at 5400 for a bear market to really take hold. Scroll below for the 3rd chart.
I have posted again the US 500. Its a daily chart and you can clearly see the divergence between price and indicators,
although volume is not strong, its not weak either. Daily charts lead the weekly charts, and weekly charts lead the monthly,
so this positive looking daily chart could produce a strong performance next week in the US.
It appears to me there is indecision as if to buy this market or not. Whilst the indecision remains, downside out weighs the
upside.
MARKET COMMENTS: As of 16/11/18: (see charts below)
The market reverses this week after two up weeks. The volume indicators are hanging in there. The eBook system buy filter
is keeping traders of that system out of the market, which may prove to be the best strategy. Peters Portfolio continues to cash
up with another stock sold this week. This week I have posted below a chart of the US SP500. It's in a daily format and you
can see last nights trading (their Friday) shows an up bar with volume supporting the rise. The Australian market correlates
closely to this index and if it holds up ours should too.
MARKET COMMENTS: As of 9/11/18: (see charts below)
The market continues to recover from the sell off. I notice now market commentators are saying it was irrational and over
done, I didnt hear that 2 weeks ago! Ignore the news, trade your method. The volume indicators above are suggesting the
index has more to rise next week. Peters Portfolio had another strong recovery week. Two new 52 week highs in ASX 200
this week, a good sign confidence is returning.
MARKET COMMENTS: As of 2/11/18: (see charts below)
Well we got the bounce the volume and price indicators were suggesting. I have gone back to a weekly bar chart, it shows
this weeks price action more clearly than the line chart. I would have liked to have seen a stronger week, but considering
the Aussie market jumped out of the gates before the U.S. did, it was a good week. Peters Portfolio bounced even better,
it has more cash now in reserve, to either sit out further falls or buy into stocks as they trigger. I notice the rhetoric from
some market commentators is already changing, saying that things may be not be as bad as first thought. Ignore all talking
heads and trade your method. No one knows.
MARKET COMMENTS: As of 26/10/18: (see charts below)
So it's been a horrible 2 weeks (if you are long the market, great if you were short) let's look at a longer term chart first to
see if it is as bad as some people are thinking. The monthly chart above shows the long term price of the All Ords still trending
up, with the long term blue trend line still rising.
The two volume indicators the CMF (displayed in green and adjusted to a 3 month period to reflect the monthy scale)
and the OBV (in black) are showing a positive divergence, (price down but volume still holding up) It could verify what I said 2 weeks ago,
sellers seem non commited, now let's look at the weekly chart.
The price of the All Ords has come down to the blue horizontal resistance line. My experience is that horizontal resistance lines are
not as strong as trend lines, so it could fall below that line, but then it has the monthly up trend line to meet, as shown in
the monthly chart above. The CMF has been adjusted back to a 13 period, as it is normally displayed. Both weekly volume indicators reflect
what the monthly chart does, price falling but positive volume dvergence. There are 3 trading days left to the end of the month, to
me the probability of a rally outweighs the probability of more falls, but it's wait and see, we are not in the game of prediction, so the best
thing as always, is stick to YOUR plan.
MARKET COMMENTS: As of 19/10/18: (see charts below)
The XAO has a small bounce this week. Hopefully you have not been stopped out of too many positions. If you have,
they dont deserve to be in your portfolio. I am having server problems, some of you may not have received my newsletter
last week, click on the link from last weeks comments below, to access it.
MARKET COMMENTS: As of 12/10/18: (see charts below)
Tonight I sent a newsletter, you can read it here.
http://www.easysharetradingsystems.com.au/products-and-services/archive/listid-1/mailid-140-spring-falls-but-flow-remains
The market has price and volume sitting on support. For those that believe in the Bull market its a great time to buy. Those
volume indicators above on the chart look very strong, this could be the correction we had to have before the next rally.
Peters Portfolio, like everyones got smacked this week, down around 4.5%. However only one stock is giving a sell signal which
is a good sign. I notice Nick Radge put an email out today too, saying his portfolios were down between 8 and 14 %, there is
always someone worse off than yourself! Last week the Bull filter worked a treat, not allowing any buying before the big fall.
MARKET COMMENTS: As of 5/10/18: (see charts below)
The XAO continues to flounder a little. The eBook system filter wanting us to wait. 52 week highs are mainly in the resource stocks,
reflected in the 2nd chart above of the XJR. Those not using a bull filter can buy, those that are wont. It's important to make your
decision about filters and stick to it. Sometimes bull filters make you miss a trade, but they can also save your backside if the market
turns south quickly.
MARKET COMMENTS: As of 28/9/18: (see charts below)
The market recovers slowly. The bull filter is in positive mode. Volumes look to be confirming the trend. Nothing more to
say except follow your method. If you don't have a method, seriously consider getting one. The last 4 weeks were a testing time for some,
particularly those without solid rules. Peter's Portfolio rose a little, around 0.4%, it will be posted on the site in a day or two.
It's up 20.5% in 11 months, which is line with the back testing. It's always heartening to see portfolios perform in line with the testing.
Not all portfolios perform in line with back testing, mainly because of the different start dates. Two traders using the same system will often
get different results, as their portfolios differ. This is a good thing, as if everyone had the same start date, and so the same stocks, they
would be competing for the same buys and sells, limiting opportunity. Whatever system you trade it takes patience and discipline.
Keep good records, execute the process to the best of your ability. Until next week. Peter.
MARKET COMMENTS: As of 21/9/18: (see charts below)
Volumes are back and price rises. The OBV looks very strong, the CMF still a little weak. The eBook system is still waiting to buy,
next week may bring confirmation of what to do, wait more or buy. In the mean time most stocks are holding. No trades this
week for Peters Portfolio and there will be none next week either, which is great, it means stocks are trending and nothing to
do except let the process take care of itself. Stick to the system. Peters Portfolio rose almost 1% this week as the market
rose 0.4%.
MARKET COMMENTS: As of 14/9/18: (see charts below)
The XAO has a quiet week. Volumes are low. The OBV is holding up well and the CMF volume indicator (13 week
period) while looking bad is just confirming what we know. Price and volume have fallen. The bull filter for the eBook
system is still saying step aside and wait. Very few new 52 week highs this week as the market rally takes a breather.
Peters Portfolio had a good week, making a new equity high and rising around 2.5% helped along by some dividends.
MARKET COMMENTS: As of 7/9/18: (see charts below)
The XAO fell this week, below the eBook Bull filter, so its stand aside for those using that method. Volume support remains
with both the OBV and the CMF (13 period) holding up. Looking at the chart above the recent sell off looks like its overdone,
a panic on low volume. However we are not in the game of predicting but responding, so dont second guess the market. As I
always say, trade your method and be as detached as possible. Next week will be interesting. Peters Portfolio held up very well
this week, a main contributor being NST with its merger announcement.
MARKET COMMENTS: As of 31/8/18: (see charts below)
This week its the Mid Caps that rallied. As I said last week the market seems strong across the board. Trade your system.
Stick to the rules, get out of way, and let the market and your method do its thing!
MARKET COMMENTS: As of 24/8/18: (see charts below)
This week was another indication of how the XAO can be a deceiving index as to what's really going on in the market.
I have posted 2 charts this week, the usual XAO and also the Small Ords, which you can see had a big week. There are
19 stocks this week in the top 500 making a new closing 52 week high, thats a lot, indicating the breadth of this market.
Breadth meaning the market is strong across the board, not just the top 10 that dominates the XAO index. Peters Portfolio
had a strong week, a benefit of the fact it is dominated by small and mid caps with good fundamentals.
MARKET COMMENTS: As of 17/8/18: (see chart below)
The index breaks up and out of its 5 week consolidation, read last weeks commennts and also the comments I made going back
a few weeks. The market looks strong again, indicated by a large number of 52 week highs (12 in the top 500) this week.
MARKET COMMENTS: As of 10/8/18: (see chart below)
The All Ords continues to track sideways. This was the 5th week that the index found resistance around the 6400 area.
The OBV indicator is suggesting higher prices, the CMF appears positive too. The strategy is trade your system and be patient.
Higher prices will come, this is a traditional slow time of year before the market often rallies into Xmas.
MARKET COMMENTS: As of 3/8/18: (see chart below)
The market backs off a little this week but its not telling us much. Stick to the system is the best option.
MARKET COMMENTS: As of 27/7/18: (see chart below)
The big picture I mentioned last week dominates. Volume picks up and the market rallies. There is no short term sign of
weakness. The old market highs pre GFC are really not that far away (around 470 points or a little over 7% away).
We could be there by Christmas.
MARKET COMMENTS: As of 20/7/18: (see chart below)
Price continues to push higher but volume is decreasing, the same pattern as the last few weeks. Its wait and see what
happens over the next few weeks. The big picture looks strong, the monthly chart below shows a healthy trend channel
and large volume coming into the market in May and June.
MARKET COMMENTS: As of 13/7/18: (see chart below)
The XAO continues to rise, but there is now a divergence betwen price and volume. Volume is weakening suggesting buyers are
tapped out. Also there is only one new 52 week closing high in the alerts this week, indicating weakness. A pullback or at least consolidation
looks probable.
Peters portfolio managed a small rise this week because some stocks rallied well, but others are falling. Interesting times. I suggested
last week the market was churning, money is being re alloctaed and my portfolio is certainly showing that. One of the good things about
buying 52 week highs is that the strategy normally puts you where the money is going, without having to think about it. It will be
interesting to see what stocks and sectors start to trigger in the coming weeks and months as the churning subsides and decisions are
made.
MARKET COMMENTS: As of 6/7/18: (see chart below)
The XAO goes higher but with less volume. Not all stocks are rising, it seems there is some churning happening. Money being
relocated into other sectors. Peters Portfolio got whacked again this week with the fall in ELD.
MARKET COMMENTS: As of 29/6/18: (see chart below)
Prices and volume recede a little this week, the XAO seems to be getting help from the falling Aussie dollar, as the market
has been resilient to falls on overseas indices. One would expect more consolidation, but it is dangerous to expect or
predict. The trend is strong and up. Peters Portfolio suffered a little this week due to falls in HSN, any stock not perfroming
fundamentally well is punished and MTS and HSN are recent victims.
MARKET COMMENTS: As of 22/6/18: (see chart below)